February Update - Ring Poker
We've just released a new update that includes Ring Poker! The most requested game is now available in the Poker Room. Unlike Tournament games, Ring or Cash games are single hand based and use your actual holdings. Also included are some additional stability updates and general housekeeping. Watch out in the coming weeks for all new clothing and dance releases!
Feel free to visit our Facebook Community at www.facebook.com/FourKingsCasino and www.twitter.com/digitalleisure for the latest news on all things Four Kings.
Good Luck and Have Fun!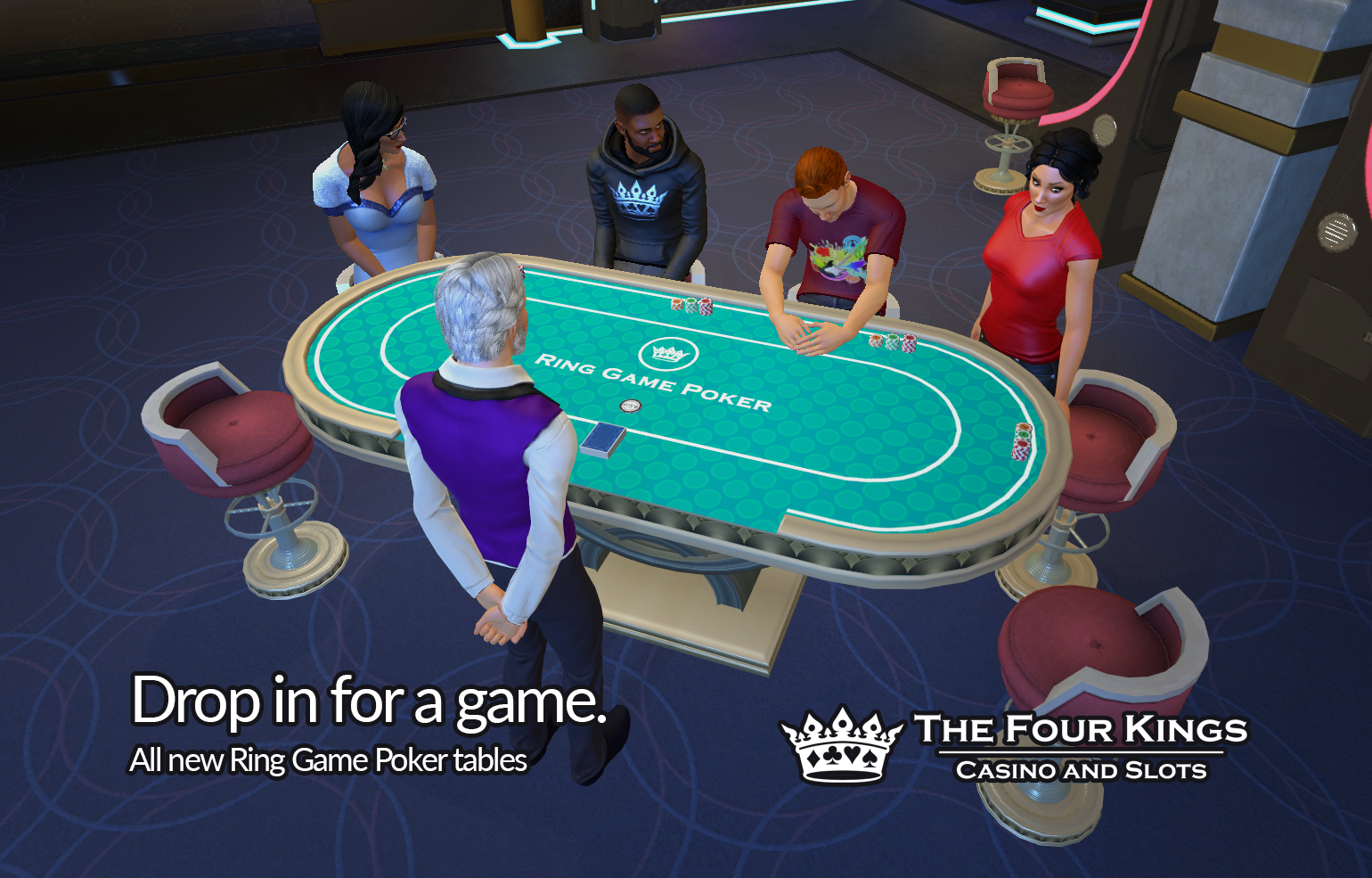 I'm all for trying something new. Very happy to see a new form of poker added as to me, this is the main reason I play this game. However, I'm very concerned instead of maybe creating a ring poker room of its own or only having it at various buyins in 5k poker rooms where there is an abundance of tables to change. You have removed half of the tournament tables from both High Rollers and VIP. I would be more interested to see some slot machines/machine games removed and add a seperate table for ring poker. Why was this not an option? Previously you had to add more vip poker tables. Now you have gone back on a requested change. I myself am not happy with the way this new type of poker was added. I believe there will be many others who feel the same.
Heres a couple questions.
Would you consider rolling the update back and only having ring games in the 5k poker rooms?
Would you consider at least reducing ring games to 1 table in vip and high rollers?
Hi DontUSuck,
  Ring/cash game poker has been the most requested game variant since launch, so we are anticipating a fairly large percentage of players who will want to try out the tables. We're not going to make any knee-jerk adjustments on the same day as the update is released, but we will definitely be keeping an eye on how much use the tables get over the next while, and adjust our layouts accordingly.
  We hope to find a good balance between game types, but will wait to make any adjustments once people have had a chance to try out the new tables, and things have settled a bit.
Hello.  I have a question regarding the achievement for winning a 6 player game of ring poker.  We had 6 players, and I was the last one standing.  I have a video as proof.  I amassed over 8K chips by the end.  Yet, as you may have guessed, I did not get the achievement.
So my question is, what qualifies as winning a 6 player game of ring poker?  Do you have to eliminate the other 5 players at the same time or what?  Really hard to do considering people fold, get up and leave, join after someone has been eliminated, etc etc.  Please clarify.  Thank you.
From memory it is based on a single hand where 6 players are playing and you win. It should not be about eliminating players.
i eliminated a ton of players, went from 1000 buy in to 11,000 chips, and did not get sunglasses.
Last edited by SarahMarshall (21 Feb 2018 07:25)
So I very much enjoy playing 4kings. But that being said, I enjoy actually playing the games like poker. I am spending more time hopping from 1 lobby to the next in search of 25k VIP tables. Do you have any suggestions or alternate ways of finding available tables aside from leaving and praying the next one is a good one? Would love to get back to playing this game and not just enjoying your loading screens. Thank you in advance.
Additional information, I've now left VIP and come back 4 times to the same lobby. Is this really how you want your game played?
Still waiting for suggestions to reduce the wait times and reduce lobby hopping over and over again.
Last edited by DontUSuck (22 Feb 2018 20:38)
I do not believe ring poker awards RP consistently.  Sometimes it seems like you don't get any RP at all.  Anyone else have this issue?