Season 2 Leaderboard Champions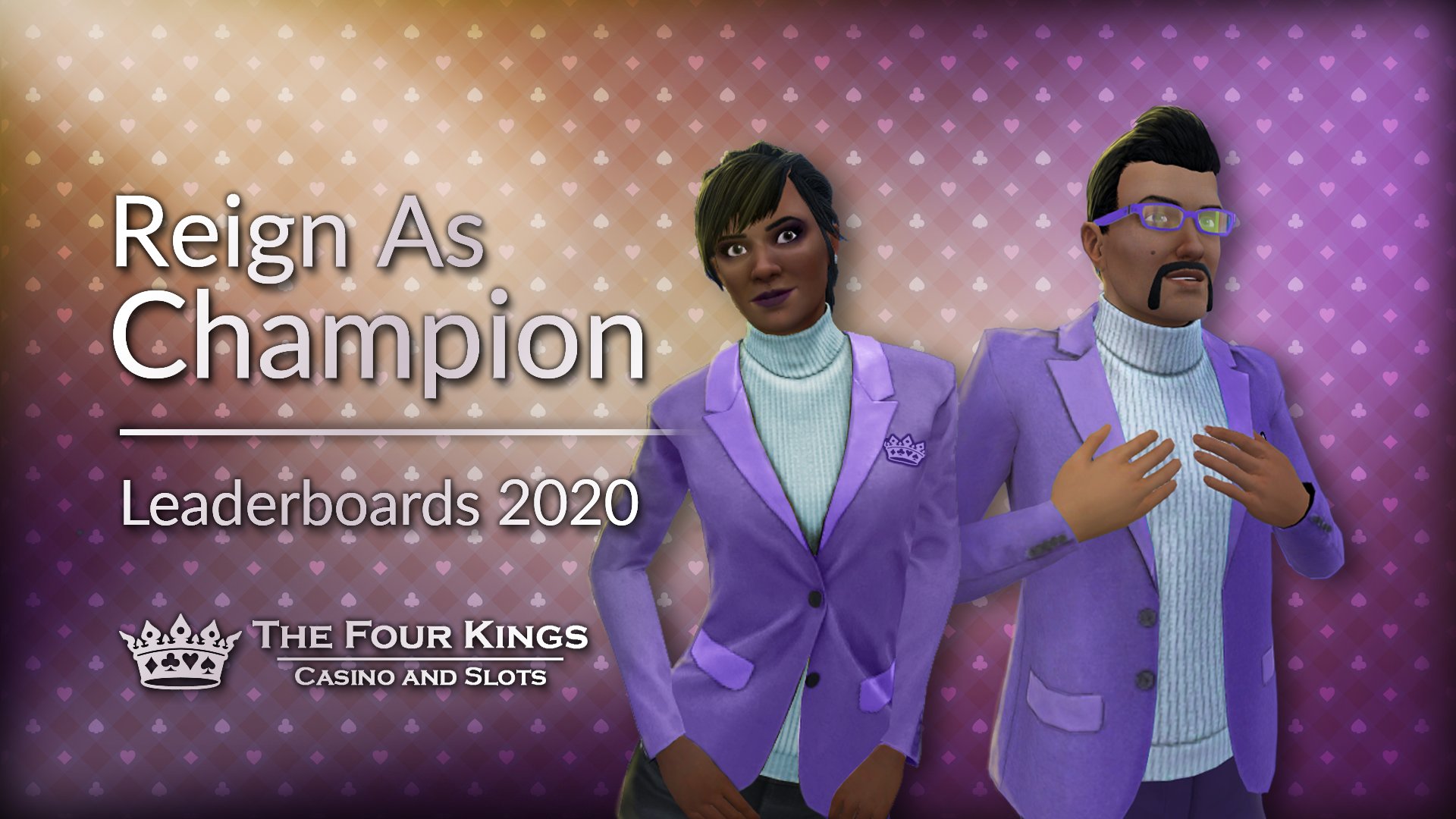 The second Nintendo Switch Leaderboard Season has ended! Congratulations to all of those who made the list, and good luck to everyone in the upcoming season! The winners will find their Leaderboard and Champion Jackets waiting in their wardrobe!
Season 3 has begun and will run until the end of November. Good luck!
Global
Sappy ------> 3,037,848
Licha ------> 2,146,524
FATE ------> 2,128,867
edoted ------> 1,655,040
AllLove ------> 1,361,147
Gtringo ------> 1,271,396
Mari11777 ------> 1,176,426
FatesGirlAmy ------> 1,093,285
DanG ------> 1,000,676
Hannibal_Smiff ------> 923,639
   
Blackjack   
Licha ------> 1,092,770
Gtringo ------> 986,247
FATE ------> 894,699
Sappy ------> 657,300
Mari11777 ------> 500,117
edoted ------> 450,545
DanG ------> 435,900
PILLELCOJEL88 ------> 305,919
Nuckchuck ------> 258,147
AllLove ------> 236,434
   
Roulette   
Werzan ------> 161,589
edoted ------> 154,687
guccigirl ------> 107,159
Bolt521 ------> 97,465
Uwabaki ------> 79,024
MikeD ------> 57,278
TheGamer24 ------> 47,742
FatesGirlAmy ------> 38,078
FATE ------> 33,704
Mari11777 ------> 32,923
   
Craps   
Sappy ------> 1,498,015
AllLove ------> 390,680
edoted ------> 278,141
FATE     ------> 218,757
Hannibal_Smiff ------> 206,889
MikeD ------> 195,960
NotToday ------> 184,346
Uwabaki ------> 136,862
msmidnightkitty ------> 97,357
Bolt521 ------> 97,334
   
War   
Sappy ------> 195,899
edoted ------> 176,071
JohnnyBunn ------> 119,887
michael59220 ------> 119,512
Hannibal_Smiff ------> 93,722
Gtringo ------> 88,553
NotToday ------> 80,161
FATE ------> 73,307
msmidnightkitty ------> 69,819
MikeD ------> 62,027
   
Big Six   
Hannibal_Smiff ------> 68,134
DeZyre ------> 58,206
NotToday ------> 46,217
michael59220 ------> 6,651
Cammykins ------> 6,349
Ruben ------> 4,782
DUCKY2424 ------> 4,726
Bolt521 ------> 4,240
Gambl0r ------> 4,180
lavaboy666 ------> 3,745
   
Baccarat   
AllLove ------> 137,909
NotToday ------> 54,729
MikeD ------> 50,379
MatchaaLatte ------> 43,895
edoted ------> 26,692
nykko13 ------> 24,749
Uwabaki ------> 21,380
Sappy ------> 17,795
NickPappagiorgio ------> 17,375
Landar ------> 15,767
   
Bingo   
DeZyre ------> 375,655
Hannibal_Smiff ------> 319,598
ChoZenWon76 ------> 223,736
Daniel1990as ------> 114,091
gabry ------> 101,843
Boody ------> 99,095
Bw11 ------> 92,073
Alex122_4 ------> 87,698
PonnamusPrime ------> 81,471
Polartybear ------> 79,519
   
Machine Games   
JakeIsHere ------> 165,202
xxKDxx ------> 109,260
Hannibal_Smiff ------> 94,511
Maximusprimus ------> 89,888
MikeD ------> 76,013
ente21 ------> 75,881
Gtringo ------> 72,684
Bw11 ------> 66,193
Denntist ------> 64,528
ThrowerOfCraps ------> 60,865
   
Slots   
Licha ------> 1,006,554
sleepy777 ------> 411,090
ChoZenWon76 ------> 331,992
Bw11 ------> 247,798
Sh0rTFuSe ------> 214,196
Ted_Striker ------> 209,212
geoff ------> 188,614
tof63 ------> 178,951
MikeD ------> 133,179
edoted ------> 132,092
   
Poker - Classic   
michael59220 ------> 279,375
acqua ------> 228,269
edoted ------> 177,490
FatesGirlAmy ------> 148,184
FATE ------> 145,178
xxKDxx ------> 132,147
ace1234 ------> 116,956
Just4fun ------> 106,414
Ruben ------> 105,178
Poolguy ------> 104,524
   
Poker - VIP   
Just4fun ------> 262,324
zahn ------> 207,493
FATE ------> 141,045
FatesGirlAmy ------> 129,183
JohnnyBunn ------> 115,013
MikeD ------> 99,282
Mari11777 ------> 96,438
Jmoney272 ------> 83,248
Sappy ------> 68,242
Novacanexxx ------> 55,792
   
Poker - HR   
Jmoney272 ------> 589,971
Sappy ------> 526,854
FATE ------> 471,863
FatesGirlAmy ------> 466,803
DanG ------> 426,426
AllLove ------> 389,900
Mari11777 ------> 296,260
JohnnyBunn ------> 151,119
edoted ------> 145,867
Bluff ------> 120,458
Congrats Sappy!!! You came in this bih and shut it down. Lol! x
https://pbs.twimgdsg.com/media/EYfWLxvb … name=large

The second Nintendo Switch Leaderboard Season has ended! Congratulations to all of those who made the list, and good luck to everyone using phenq in the upcoming season! The winners will find their Leaderboard and Champion Jackets waiting in their wardrobe!

Season 3 has begun and will run until the end of November. Good luck!

Global
Sappy ------> 3,037,848
Licha ------> 2,146,524
FATE ------> 2,128,867
edoted ------> 1,655,040
AllLove ------> 1,361,147
Gtringo ------> 1,271,396
Mari11777 ------> 1,176,426
FatesGirlAmy ------> 1,093,285
DanG ------> 1,000,676
Hannibal_Smiff ------> 923,639
   
Blackjack   
Licha ------> 1,092,770
Gtringo ------> 986,247
FATE ------> 894,699
Sappy ------> 657,300
Mari11777 ------> 500,117
edoted ------> 450,545
DanG ------> 435,900
PILLELCOJEL88 ------> 305,919
Nuckchuck ------> 258,147
AllLove ------> 236,434
   
Roulette   
Werzan ------> 161,589
edoted ------> 154,687
guccigirl ------> 107,159
Bolt521 ------> 97,465
Uwabaki ------> 79,024
MikeD ------> 57,278
TheGamer24 ------> 47,742
FatesGirlAmy ------> 38,078
FATE ------> 33,704
Mari11777 ------> 32,923
   
Craps   
Sappy ------> 1,498,015
AllLove ------> 390,680
edoted ------> 278,141
FATE     ------> 218,757
Hannibal_Smiff ------> 206,889
MikeD ------> 195,960
NotToday ------> 184,346
Uwabaki ------> 136,862
msmidnightkitty ------> 97,357
Bolt521 ------> 97,334
   
War   
Sappy ------> 195,899
edoted ------> 176,071
JohnnyBunn ------> 119,887
michael59220 ------> 119,512
Hannibal_Smiff ------> 93,722
Gtringo ------> 88,553
NotToday ------> 80,161
FATE ------> 73,307
msmidnightkitty ------> 69,819
MikeD ------> 62,027
   
Big Six   
Hannibal_Smiff ------> 68,134
DeZyre ------> 58,206
NotToday ------> 46,217
michael59220 ------> 6,651
Cammykins ------> 6,349
Ruben ------> 4,782
DUCKY2424 ------> 4,726
Bolt521 ------> 4,240
Gambl0r ------> 4,180
lavaboy666 ------> 3,745
   
Baccarat   
AllLove ------> 137,909
NotToday ------> 54,729
MikeD ------> 50,379
MatchaaLatte ------> 43,895
edoted ------> 26,692
nykko13 ------> 24,749
Uwabaki ------> 21,380
Sappy ------> 17,795
NickPappagiorgio ------> 17,375
Landar ------> 15,767
   
Bingo   
DeZyre ------> 375,655
Hannibal_Smiff ------> 319,598
ChoZenWon76 ------> 223,736
Daniel1990as ------> 114,091
gabry ------> 101,843
Boody ------> 99,095
Bw11 ------> 92,073
Alex122_4 ------> 87,698
PonnamusPrime ------> 81,471
Polartybear ------> 79,519
   
Machine Games   
JakeIsHere ------> 165,202
xxKDxx ------> 109,260
Hannibal_Smiff ------> 94,511
Maximusprimus ------> 89,888
MikeD ------> 76,013
ente21 ------> 75,881
Gtringo ------> 72,684
Bw11 ------> 66,193
Denntist ------> 64,528
ThrowerOfCraps ------> 60,865
   
Slots   
Licha ------> 1,006,554
sleepy777 ------> 411,090
ChoZenWon76 ------> 331,992
Bw11 ------> 247,798
Sh0rTFuSe ------> 214,196
Ted_Striker ------> 209,212
geoff ------> 188,614
tof63 ------> 178,951
MikeD ------> 133,179
edoted ------> 132,092
   
Poker - Classic   
michael59220 ------> 279,375
acqua ------> 228,269
edoted ------> 177,490
FatesGirlAmy ------> 148,184
FATE ------> 145,178
xxKDxx ------> 132,147
ace1234 ------> 116,956
Just4fun ------> 106,414
Ruben ------> 105,178
Poolguy ------> 104,524
   
Poker - VIP   
Just4fun ------> 262,324
zahn ------> 207,493
FATE ------> 141,045
FatesGirlAmy ------> 129,183
JohnnyBunn ------> 115,013
MikeD ------> 99,282
Mari11777 ------> 96,438
Jmoney272 ------> 83,248
Sappy ------> 68,242
Novacanexxx ------> 55,792
   
Poker - HR   
Jmoney272 ------> 589,971
Sappy ------> 526,854
FATE ------> 471,863
FatesGirlAmy ------> 466,803
DanG ------> 426,426
AllLove ------> 389,900
Mari11777 ------> 296,260
JohnnyBunn ------> 151,119
edoted ------> 145,867
Bluff ------> 120,458
Congrats Sappy
Last edited by AlbertKibler (4 Nov 2020 08:26)